Hope is in the air.  Spring is my favourite time of the year.  The arrival of warmer weather, longer days, fresh green buds on the trees and the first glimpses of colour in the bluebell woods signify a promise of things to come. The reassurance of renewal.
At the same time the easing of lockdown restrictions has brought the sound of joyful chatter and laughter to our gardens.  Catching up with friends in the park, the excitement of a hair appointment, for many the return to work.  Cautious optimism over vaccines and the availability of testing.  In many ways we have turned a corner. 
But let's not underestimate the impact of what we have been through and the continuing legacy of the virus. The Mental Health Foundation reports an enduring increase in loneliness over the past year and with levels rising from 10% in March 2020 to 26% in February 2021.  Feeling of loneliness have been particularly high amongst 18-24s, the unemployed, single parents and those with a pre-existing mental health condition. Uncertainty and rapid change is still causing stress and anxiety and prolonged lack of access to many of the stress relieving coping strategies we used to take for granted is and will continue to take its toll. 
I have been wondering if we will ever go back to our old ways? Have we forgotten how to connect?  Will we shake hands and kiss each other on the cheek? Will we ever stop feeling awkward about the appropriateness of a hug?  Readjustment will take time and many of us will question what we want to return to. Our priorities have shifted, our beliefs have been shaken, our values have evolved.  Navigating this on a personal let alone an organisational level will be challenging.  We need to go easy on ourselves and on each other.  We need to give each other the benefit of the doubt.  We need to stay curious about each others' motivations and try not to jump to conclusions or assumptions.  We have all 'been in the same storm' but we have been equipped with vastly different boats.  While some have sat tight in a stable ocean liner, others are still clinging on to their life raft. We should be wary of projecting our own experiences onto others.   And we need to listen.
But let's return to hope.  I'm encouraged by the explosion of helpful resources available in the mental health arena such as Mental Health UK, Time to change, Mental Health at work and SHOUT 
And I'm heartened by the proliferation of role models who are speaking out to normalise mental health challenges and reminding us:
It is a sign of strength, not of weakness to ask for help 

Working on your mental health is as much a priority as working on your physical health 

We all have a responsibility to support each other and to be kind.
My current favourite resource comes in the form of tender words and beautiful pictures from the marvellous Charlie Mackesy.  If you have not yet come across "The Boy, the Mole, the Fox and the Horse" you are in for a treat.  Dip into it to find gems such as this.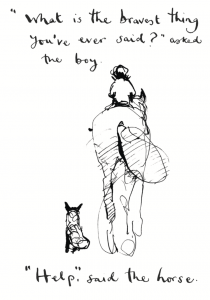 Helen is a wellbeing coach and a mental health first aider.  She works with individuals helping them find a place in the world where they are happy, safe and fulfilled.  She also works with organisations helping them to provide working environments where everyone, whatever their role, is respected, valued and challenged to develop and grow.